Trend Alert: Consumers plan to put their money where their values are in 2022
The economic effects of the pandemic created an increased focus on the importance of preserving community businesses, an urgency to prevent further climate change, and shopping as an act of social justice.
In PayBright by Affirm's 2022 Canadian Consumer Trends Report, we found that Canadian consumers (especially those under 35) plan to align their purchases with their values this year.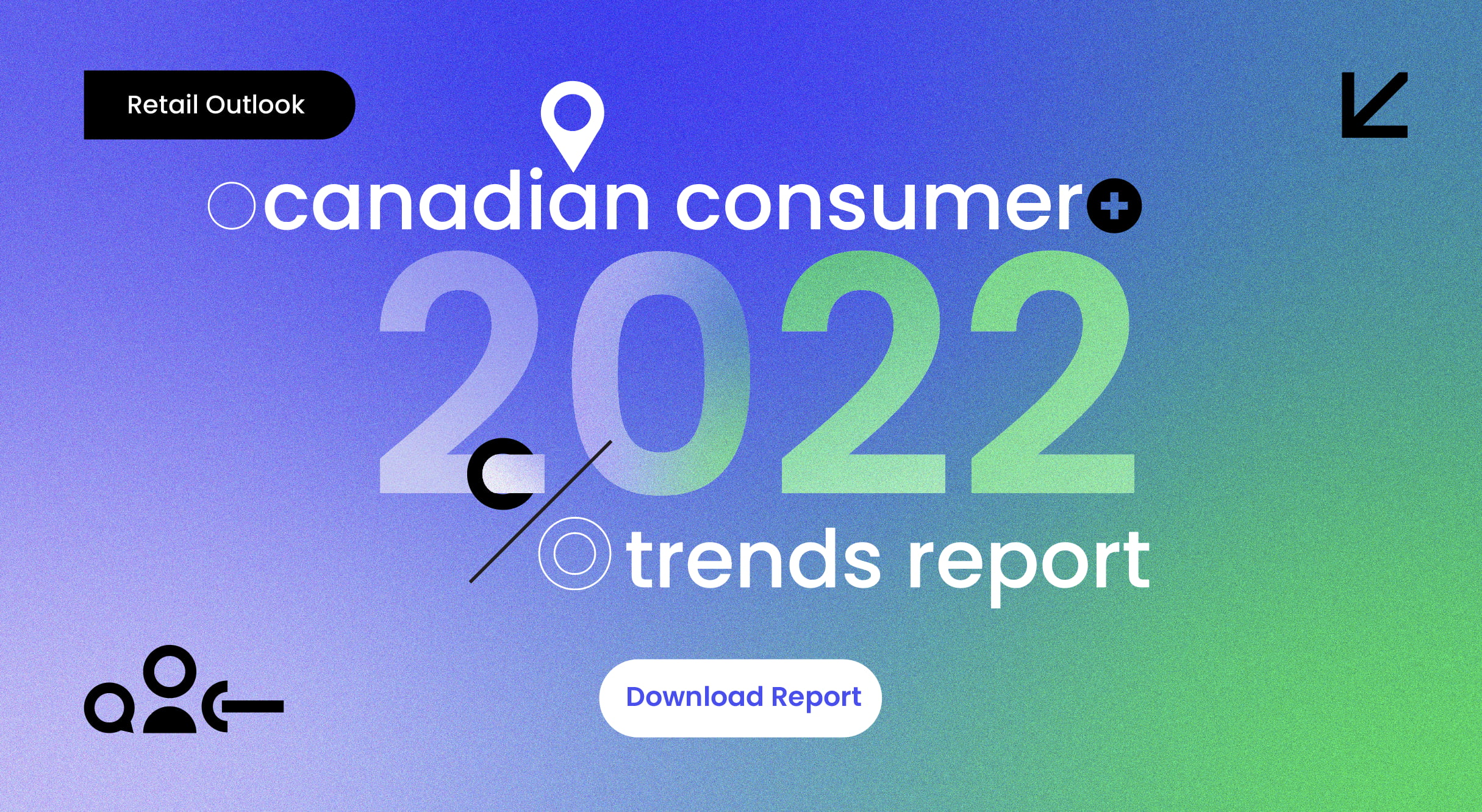 The conscious consumer
Social or conscious consumerism is on the rise. This occurs when the consumer's needs are met, the business achieves profitability, and a social issue is positively affected. As a result, more people than ever are considering how consumption impacts the planet, local economies, and communities.
As household budgets have shifted due to the pandemic, more people have reevaluated their needs and values. Soonkwan Hong, a researcher and associate professor of marketing at Michigan Technological University, proposes that the pandemic has "escalated desires for safety and connected individuality." As a result, there is now a shift toward buying local and buying in a way that positively impacts one's community.
Ranking consumer values in 2022
We asked 2,500 Canadians what issues they consider important when making a purchasing decision with a brand. They ranked shopping with Canadian-owned businesses (65%) and supporting local (64%) at the top, with sustainability not far behind at 62%.

In Quebec, sustainability was ranked even higher at 73%. This conclusion is consistent with PwC's report, Understanding the Canadian Consumer of the Moment, Canadian Consumer Insights 2021. They found that where you are in the country might affect how you feel about sustainability. Quebec shoppers are more likely to say they consciously buy from companies that protect the environment.
In all other categories – labour practices, social justice, charitable initiatives, minority-owned businesses, and politics – respondents under 35 ranked these values higher than respondents over 35.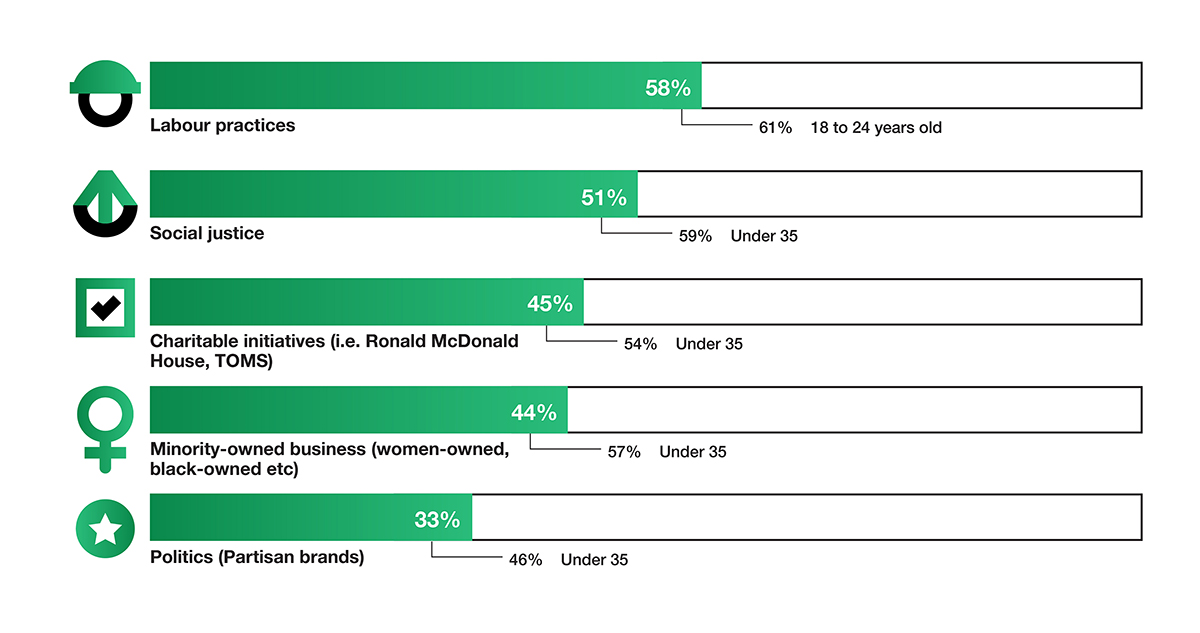 When asked if they agreed with the statement, "I would NOT do business with brands that do not align to my personal ethics and values," most respondents between 18-35 answered positively. Therefore, our research suggests that millennials and Gen Z shoppers are more likely to shop consciously and consider social issues when making purchasing decisions.
Priorities for retailers
To reach conscious consumers in 2022, retailers should focus on two things.
1. Prioritize sustainability and ethical sourcing
A 2021 OpenText survey found that 86% of Canadian consumers prioritize buying from companies with ethical sourcing strategies in place – an increase of 10% from before COVID-19. Retailers take note: they're even willing to pay more for products that have been manufactured in environmentally sustainable and socially responsible ways.
Environmentally conscious retailers have an opportunity to surprise, delight, and win the loyalty of a growing segment of principled consumers by prioritizing sustainability in packaging, delivery options, and product selection.
2. Wear your brand values proudly
There was a time when sharing corporate values with the public was considered the kiss of death. The year 2022 is not that time.
Some of the ways retailers can communicate their brand values are to:
Prioritize and label products that have been ethically sourced or locally produced
Advocate for fair labour practices and a living wage in your sector
Partner with a local charity to sponsor an event or share proceeds to the cause
Use inclusive language and imagery in marketing
Want all the insights from the entire 2022 Canadian Consumer Trends Report? Click the link below to download, and don't forget to check out our full library of articles on Talking Shop, PayBright's blog built for Canadian retailers big and small.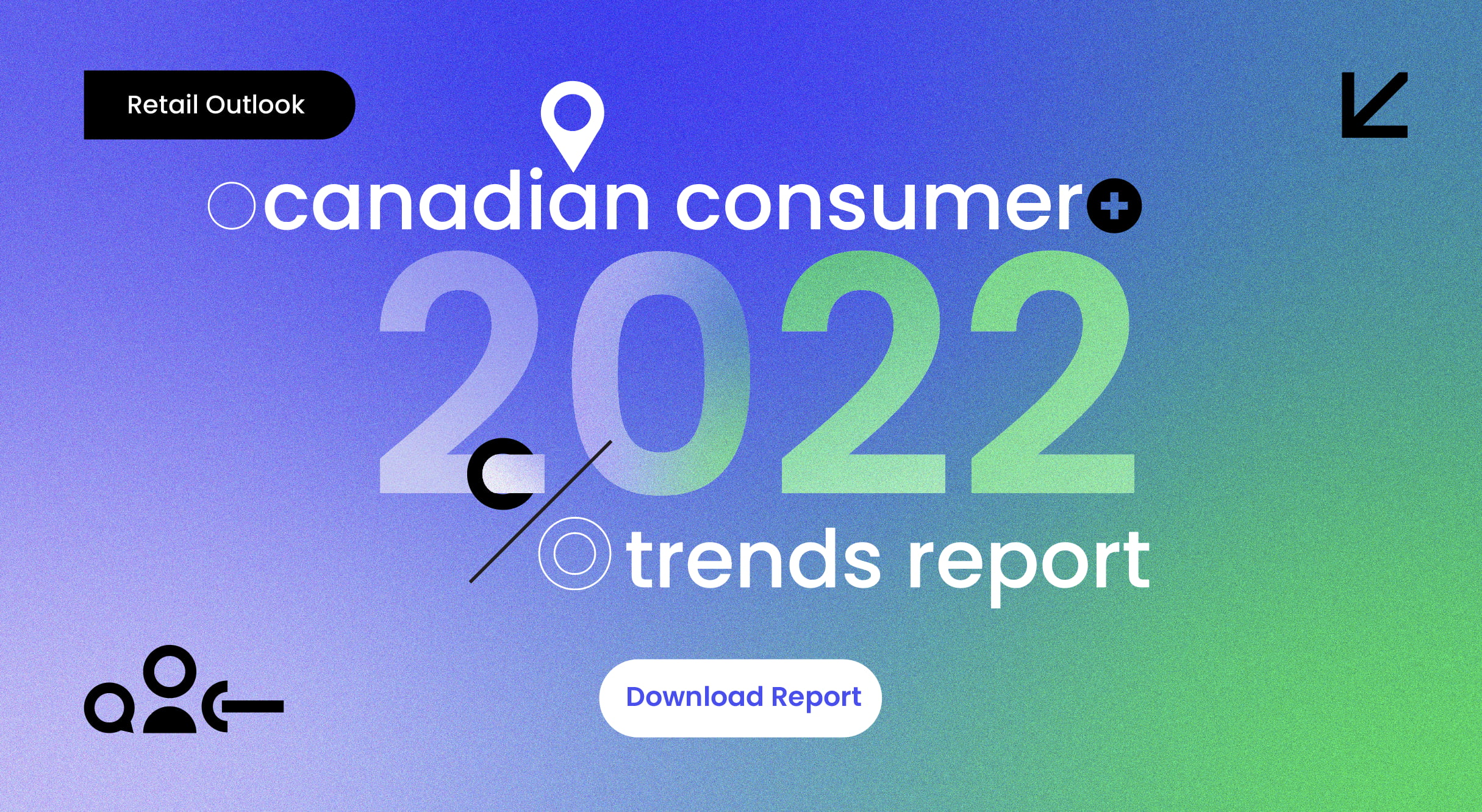 ---
This article is provided for informational purposes only. It is not an exhaustive review of this topic. The content is not financial or investment advice. No professional relationship of any kind is formed between you and PayBright. While we have obtained or compiled this information from sources we believe to be reliable, we cannot and do not guarantee its accuracy. We recommend that you consult your personal finance professional before taking any action related to this information. PayBright is a provider of Buy Now, Pay Later (BNPL) solutions. BNPL providers offer plans with a variety of terms and conditions, including interest rates, fees, and penalties, and have different standards for qualifying for loans. Laws and regulations governing BNPL providers vary by jurisdiction. We recommend that you compare and contrast plans, read the fine print, and conduct detailed research into any BNPL provider before using their services.
Never miss a story
Brighten your inbox with Talking Shop news!