How PayBright drives more sales for Canadian auto parts giant, CanadaWheels
Saleh Taebi knows all about how to drive business forward. And he should: he is in the highly-competitive Canadian automotive industry, after all.
As the founder and CEO of Ottawa-based CanadaWheels.ca, Taebi has made the company a staple in the national automotive e-commerce landscape, providing auto essentials and services to thousands of Canadians both in-store (installations) and online (products, such as wheels, tires, and auto parts) since 2012. He and his staff of over 20 people have seen tremendous sales growth, even during a global pandemic that has unceremoniously caused the shuttering of many other Canadian shops.
Nearly a decade since opening its doors, CanadaWheels has emerged as a fan-favourite business whose return customers rely on the high-quality automotive products and customer experience it provides. This is not by accident: always with the end-user in mind, it has made some important decisions around improving customer experience. One of those decisions was to begin offering PayBright at checkout.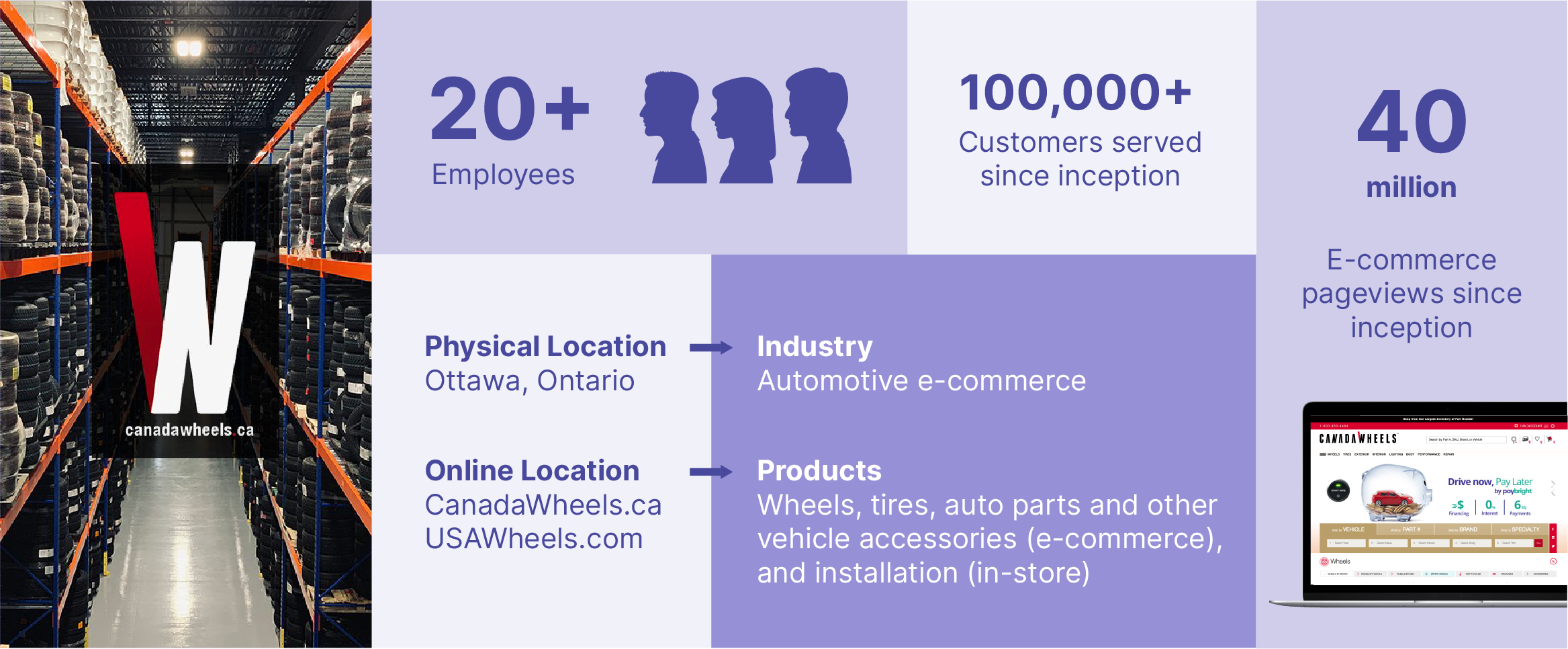 THE CHALLENGES: KEEP BUSINESS GROWING. KEEP CUSTOMERS HAPPY.
With a significant portion of their sales being won online, CanadaWheels set its sights on continuing to drive its e-commerce growth. The biggest challenge for this brand was to make strategic choices in an aggressively competitive industry that ultimately set it apart from its competitors. Implementing ways to make their premium auto accessories even more accessible and affordable to Canadians was one such choice.
"Our goal has always been to revolutionize the automotive online shopping experience and break barriers within the automotive industry. One way we tackled this challenge was to create an effortless buying experience for our customers by providing more accessible payment methods," Taebi explains. "We wanted to increase our customers' purchase power and remove any financial barriers they faced when making a buying decision."
As a result, CanadaWheels made their customers an irresistible offer: Pay for their orders over time - $0 down and 0% interest - by choosing PayBright at checkout.
THE SOLUTION: OFFERING PAYBRIGHT 0% INTEREST PLANS
To drive their business forward, CanadaWheels began offering PayBright payment plans at checkout. In doing so, their customers can now pay later in six flexible, interest-free monthly installments ($0 down and 0% interest) for their essential auto needs, eliminating the requirement to pay the full price up front.
As its customers typically have a higher average order value (AOV) of around $1,000 (CAD), CanadaWheels was an ideal fit for providing PayBright's installment payment plans. **But why did CanadaWheels choose PayBright over other buy now, pay later providers in Canada? **
According to Taebi, PayBright was notable because:
It was among the first in Canada to offer buy now, pay later for e-commerce,
It has a solid Canadian reputation,
It has a laser focus on the needs and goals of the technology sector, and
It offered advanced financial 'plug and play solutions' during the exploratory process.
CANADAWHEELS: HOW IT WORKS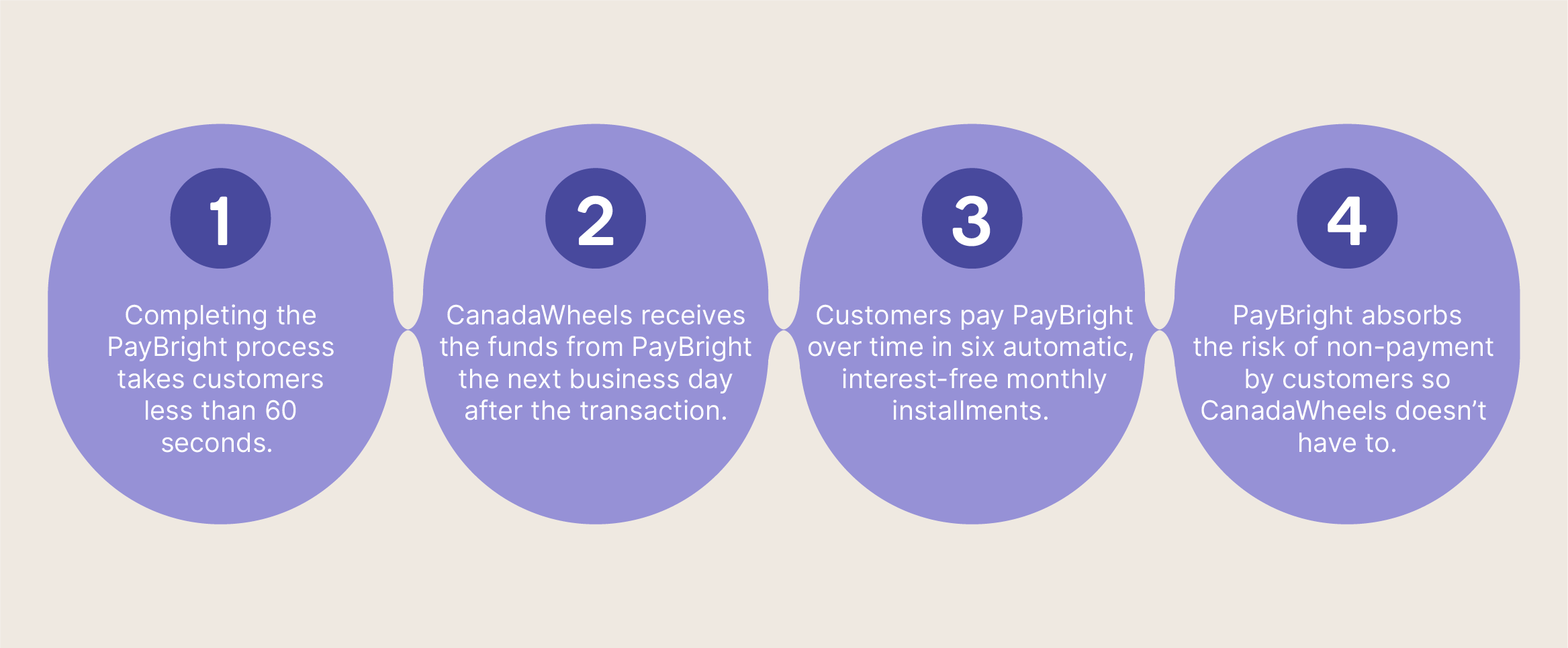 THE RESULTS: SUCCESS BY THE NUMBERS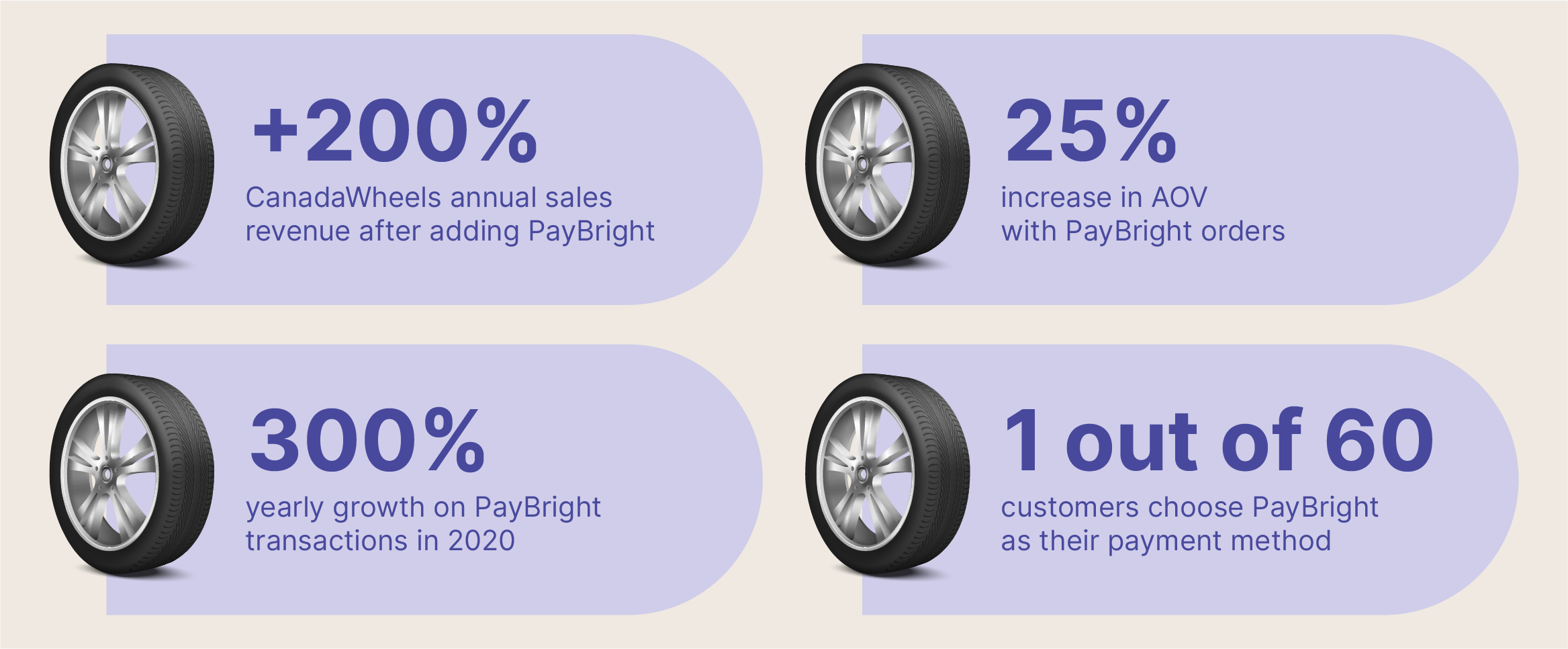 CanadaWheels noted a year-over-year jump in sales revenue of 200% since offering PayBright, as well as significant increases in AOV and overall transactions.
Ultimately, adding PayBright at checkout gives CanadaWheels even more of a competitive advantage. According to Taebi, "PayBrights adds to our company end goal which is to create a flawless customer purchasing experience by eliminating any financial barriers that shoppers might face."
What are the benefits of offering PayBright to your customers? Says Taebi:"Giving our customers multiple payment options, including PayBright, equipped them with more autonomy in terms of their purchasing experience, which was what we wanted. Our clients are very happy when they know they can see how much they will be charged per month. Furthermore, they like being able to choose their payment period length."
CANADAWHEELS: WORKING WITH PAYBRIGHT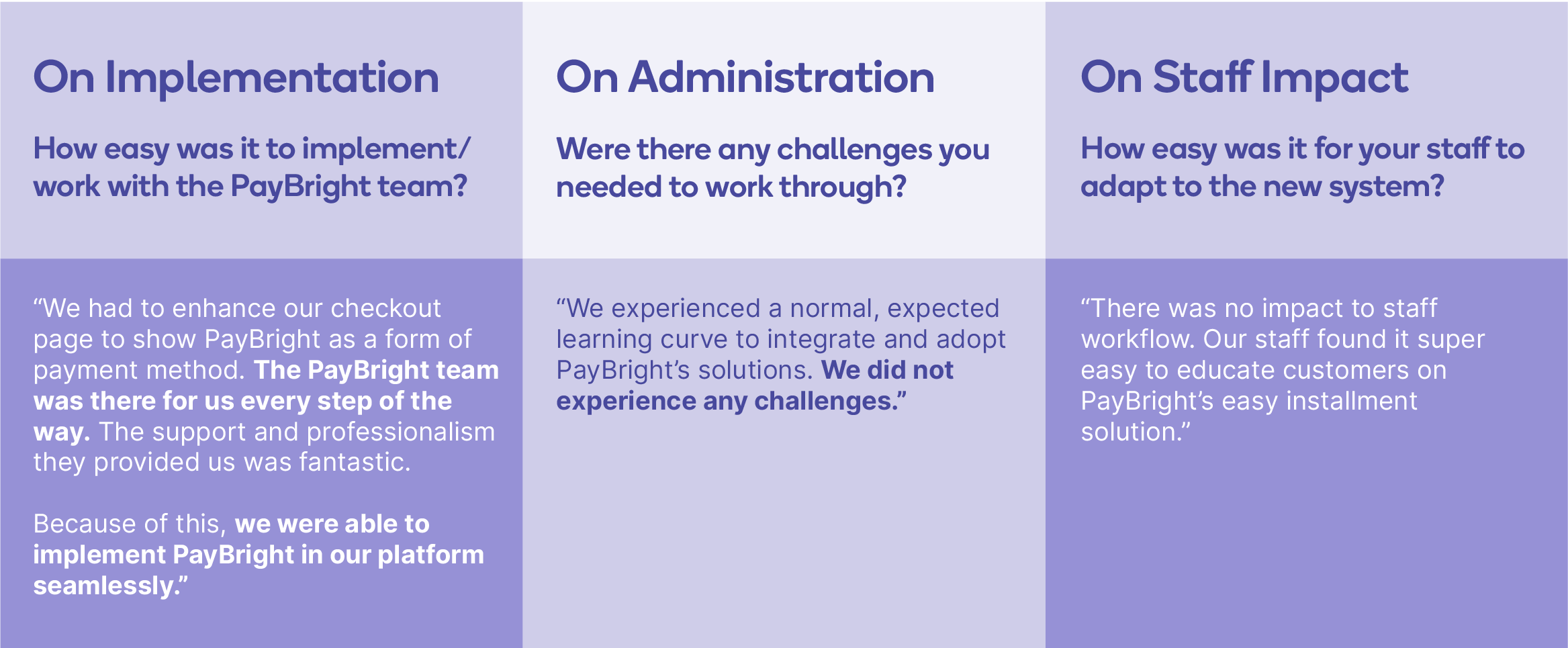 Inspired by CanadaWheels' powerful success story? Join 9,000+ businesses who also have a head start.
---
This article is provided for informational purposes only. It is not an exhaustive review of this topic. The content is not financial or investment advice. No professional relationship of any kind is formed between you and PayBright. While we have obtained or compiled this information from sources we believe to be reliable, we cannot and do not guarantee its accuracy. We recommend that you consult your personal finance professional before taking any action related to this information. PayBright is a provider of Buy Now, Pay Later (BNPL) solutions. BNPL providers offer plans with a variety of terms and conditions, including interest rates, fees, and penalties, and have different standards for qualifying for loans. Laws and regulations governing BNPL providers vary by jurisdiction. We recommend that you compare and contrast plans, read the fine print, and conduct detailed research into any BNPL provider before using their services.
Never miss a story
Brighten your inbox with Talking Shop news!